So it's that day of the week again, where we get together to share our recent eats. In my case I am going to share my favourite things I've been eating recently. Literally that bank holiday at the beginning of the week as thrown me completely. So it got to tea-time yesterday and I was taking a photo of my meal, because it looked good and then I remembered that tomorrow/today is
WIAW
. Which is one of my favourite blogger link-ups that I like taking part in, and then I suddenly had to come up with a spin on things. Genuinely forgetting about taking pictures hasn't happened to me in a while.
But I don't know about you, but I either can't stop taking photos of my eats or it becomes a chore and it seems like a hassle suddenly? Lately though I just seem to be more interested in the eating that I entirely forget the photographing part.
I may start doing daily uploads in some form or way of my every
mouthful
or
slurpful
. Ok, so slurpful isn't a word but you guys get the idea. I'm hoping to get snappy happy! So stay tuned to my instagram and twitter accounts.
Moving on to my recent "
favourite
" eats.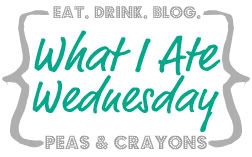 An Old Favourite.
I found these when I was shopping with my mom the other day. And this flavour is amazing : D
Porridge, Berries and Nutella.
Love this combination at the moment. Can't wait for the temperature to lower, this will be even more comforting!
Chicken Jalfrezi.
Although I have had better, this hit the spot when I was craving it Thursday night.
Prawn Cocktail Jacket, with cheese, Salad and salad cream.
This has been a monthly favourite of mine, and I have really been craving prawns lately. I reckon I could probably eat them everyday,
Chopped Mango and (full-fat) Greek Yoghurt.
What can I say? Mango will always be a favourite : D
Loved wearing my colour block shorts yesterday, it was great weather for it!
Is anyone else mango obsessed/crazy? I sure am, I think I mention it every other post ha ha.
Have you re-discovered any old favourites recently?
Thanks to the lovely Jenn for hosting : D
xo Thanks for Reading xo